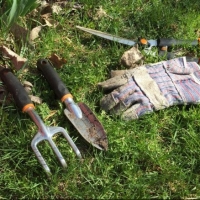 Adopt-a-Plot Attention
May 21, 2020
With the postponement of a scheduled Clean-Up Day this spring and no plans to reschedule during Phase 1 restrictions, the Property Committee is requesting that if you have a Plot, those areas are now in great need of care. All grasses have been cut down, but bushes really need trimming and a good clean-up.

Weeds and grass have started growing into the white rock and also need to be pulled. You and your family are invited to address your area(s) before the end of May, if possible. With the recent moisture, the weeds are pulling out easily.

We still have several new areas that have not been adopted. If you wish to take on or add an area, please contact me and I can introduce you to that area and share the needs for that plot.

If you are unable to address your plots at this time, please also let me know. Thank you to all of those who have already cleaned up their assigned areas. Contact Todd Koepp for more information.
Back