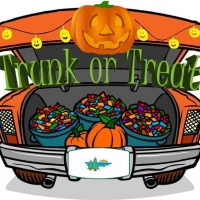 Trunk & Treat No Contact
October 14, 2020
This year has encouraged us to be more creative in how we do ministry and to this same extent it has helped us be more creative in how we can acknowledge the importance of traditions while also making them safer during this pandemic.
Trunk or Treat is one such tradition that has been carefully looked at and has been altered in order to give the children and families of Atonement as well as the community a safe alternative to traditional trick or treating. My hope is that this kind of controlled and carefully constructed event can allow children to show off their costumes, enjoy the evening, and get candy all while doing so safely.
With so many traditions and events cancelled this year, it has been a disappointing one for many children in our community. Halloween is such an exciting holiday and I'm sure we all have fond memories of past Halloweens, either from the perspective of a child or that of a parent. The goal for this event is to have as many spots filled that we can accommodate safely, so we can truly give the kids a fun event. In order to prepare, I'm asking that those interested in decorating either a trunk or a parking space, please RSVP to me as soon as possible by email at doyfam@atonementbillings.org or by calling the church office at 245-7004. We will also need candy donations and there will be a marked bin in the church entrance for donations to be dropped off.
Below are the changes that have been made to this event to greatly reduce or if preferred eliminate contact between volunteers and guests.
Each car would be parked every other space to ensure proper distancing. Volunteers can choose to decorate a trunk or just the parking space.
Those decorating a trunk or space can choose to stay outside, but if no contact is preferred they can stay in their car or leave after decorating and come back at the end of the event.
Those participating (volunteers and guests) must wear a mask. Halloween masks will not count and we can offer paper masks to guests if needed.
Guests coming through the lot must stay in their family group, not mix with others and stay at least 6 feet apart from others.
A line will be taped on the ground to keep guests the recommended 6 feet away from volunteers participating with a decorated trunk or space.
Candy will not be handed out at each trunk or space. Instead a larger goodie bag of candy will be given out at the end.
To keep kids engaged in each space there will be an envelope with an I SPY list and crayon inside. This will be available for them to grab from a bin at the start. On the list will be hidden items for them to look for in the trunks or spaces. Trunks or spaces will be numbered and if the children correctly write the number of the trunk or space where each item was hidden they can receive a bonus full size candy bar at the end.
This would be set up in a way that groups loop through in one direction as to not pass others coming in. The trunk or space at the beginning of the loop will have a bin for kids to find the I SPY list and a trunk or space at the end will have the candy to distribute. This can be done by placing the candy bags in a tub 6 feet away and then the guest will grab them once the volunteer is again safely distanced.
If you have any questions or would like to RSVP to decorate a trunk or space, please reach out to me at
doyfam@atonementbillings.org
or call me at the church office, 245-7004. Thank you!
Nikki Groshans, Director of Youth and Family Ministries
Back