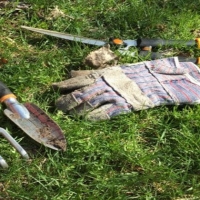 Campus Spring Cleanup Day 2021
April 13, 2021
Atonement Spring Clean-Up Day - Saturday, April 17, 2021 @ 9:00am
Atonement will be having our first cleanup day of the year both outside and inside the church. With the pandemic, we have many areas needing attention, as we continue to maintain social distancing and masking. Immediate families can work together in close proximity.
Outside will consist of washing all outside windows, trimming shrubs, weeding, mowing as needed, fertilizing, watering trees, picking rocks, testing sprinklers, planting new trees, cutting down tall grasses and sweeping gutters.
The Adopt-a-Plot Program still needs foster families to adopt and care for some landscaping. Areas available include:
The rock by the new Black Hills spruce donated by Jake Ketterling.
The "V" area of rock close to the roundabout needs a volunteer family to weed as needed.
The area around the archery range could use some TLC, if a family is willing.
The island closest to the mailbox also needs reassigning.
And the grass and bush corner area just outside the youth room is up for grabs.
Posters will be displayed in the Commons as a reminder of all areas assigned as time approaches. Please bring lawn tools including bush trimmers, brooms, shovels, etc. If you plan to wash outside windows; squeegees, buckets, rags and step ladders.
Inside the church in the bathrooms and kitchen, the floor drains will need to be flushed to maintain adequate drainage. Since the list is long, if members are available, we will continue on Sunday afternoon April 18th for work that is not completed Saturday. Thank you to all members that are willing to volunteer to get our church grounds looking well groomed.
Questions can be directed to Todd Koepp at 256-1569.
Back