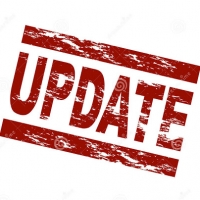 Important Covid-19 Update to Worship
March 7, 2021
Nearly one year ago, we were just learning of the severity of COVID-19 and had little understanding of how it would impact
all aspects of our life. We're now nearing a national death toll of 500,000 people – included in that number are some
people of, and known by, our congregation. On top of that, we have members who have been infected with greater or
lesser degrees of severity. While I and our church leadership grieve the disruption this has caused to the patterns of life
and ministry in our congregation, we remain unified in our efforts to protect our membership and support our healthcare
community.

Promising news comes out daily: with reductions in active cases, decreased demands on our healthcare community and
increased vaccinations. It is clear that we are not yet "out of the woods" but we are confident there is encouraging
progress. With these updates, our church leadership also been unified in our decision to resume on-site, in-person
worship beginning Sunday, March 14th, with our two-worship service schedule of 8:00am and 10:30am. Some things we
can expect will be to continue:
- Social distancing in the sanctuary
- Expectation of wearing masks
- Sanitizing between services
- Shorter worship services to limit exposure
- Communion each week with individual servings
- Online services for those not ready to return to public worship
- Multiple Easter worship opportunities to accommodate our expected attendance
There are areas where we will need your help.
- Support! Please join us in these efforts to curb the transmission of COVID-19. While there have been legislative
efforts to protect churches and businesses from litigation, it would not alleviate our conscience should our worship
service be a source of transmission.
- Volunteer! Some of our regular ushers, greeters, worship assistants, etc. are among those who are not ready to
return for on-site worship, so we will need your help.
- Pray! This pandemic has taken an economic, emotional, and spiritual toll on individuals, businesses and
institutions. There is much healing that needs to occur in the coming months and even years as we recover. I
suspect many of you are included in that need – so know that your church is also praying for you.
Lent is often likened to the ancient Israelites journey through the wilderness where God's people once again learned to
rely upon the providence of God amidst their adversity. At the outset, Moses and the people had no idea how long it would
take to get to the Promised Land. It left them sometimes yearning to return to Egypt, willing to forgo their own best
interests for the sake of familiarity and predictability. They would rather things return to "normal" rather than endure the
pilgrimage into a new future. But it was only in retrospect that they saw these years as a cleansing renewal and refining
clarity in their relationship with God and undaunted commitment to one another.

It is my hope that we will NOT return to "normal" in these coming months. May we discover a deepened commitment to
our God who has provided for us amidst our hardships. May we discover the value of our time as a community of God's
people who gather for support, encouragement, prayer and purpose. May we extend our arms and hearts to welcome
back all – members of strangers – who are ready to walk with us into our new future.
☩ Pastor Darren

Back