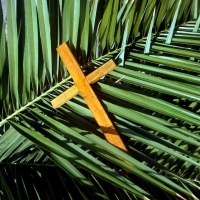 Online Worship Palm Sunday
March 30, 2020
We continue online worship, Palm Sunday, April 5. We are asking members to find your own palms, perhaps clip a branch off a tree or
bush in the backyard, or the "palm" that you have at the end of your hand. Get a picture of yourself in your yard, in front of your house,
out in our community (at a safe social distance of course) to show that God has triumphantly entered into your life, into this
community, into this world. After you have taken that picture send it in to the church office office@atonementbillings.org or to Pastor
Darren pastor@atonementbillings.org. We would like to compile those pictures for Palm Sunday and have our own virtual procession
of all of you with your palms posted in all of those places where God has entered into your world. We are looking for an individual who
would be able to create an Apple video using those pictures for the online service Palm Sunday. Stringing together all the faces that
would typically fill our sanctuary and create a virtual Palm Sunday processional. The Palm order should be delivered the week of March
30th and Pastor will be handing out the live palms Sunday, April 5 at noon in the round about in front of the church. Enter the parking lot
from the south (by the digital sign) exiting the parking lot to the north on Sierra Granda Blvd. For more details watch the video on our
Atonement Lutheran YouTube Channel.
Back