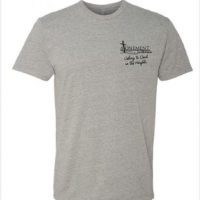 Order Atonement T-Shirts!
August 31, 2015
The Evangelism Committee will be selling t-shirts with the Atonement logo from September 1-30. The shirts are available in adult, unisex sizes XS—4XL for $12.00 (slightly higher for larger sizes) and youth sizes S—L for $10.00. The cotton/poly blend shirts are available in either charcoal grey with a white logo or light grey with a black logo. Samples are on display in the common grounds area on the coat hooks.

Order your t-shirt online at Mosaic Threads' web link (preferred method) or complete an order form at the church. Payment is accepted at the time of ordering.

Shirts will be available for pick up at the church on October 13. Contact Betty Jo at 861-4498 or Judy at 252-3617 or 671-1920 for more information or questions.
Back